The Company
An old malthouse in Lauenburg, built of red brick into the steep slope of the Elbe river banks more than 100 years ago and, to cope with the water-carrying stratum underneath, constructed solidly like an ancient castle – the ideal place for storing and producing pipe tobacco. This is the home of DTM Dan Tobacco.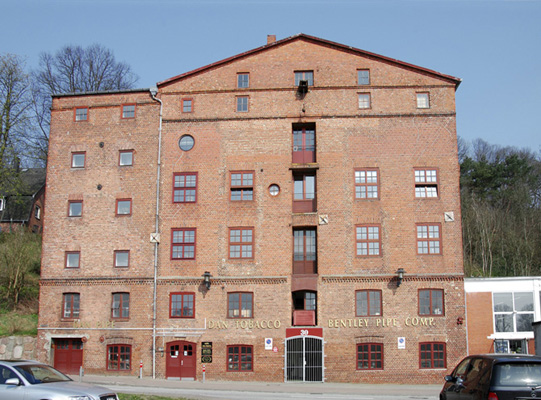 Today's industrial tobacco production allows an extensive supply at prices in line with market requirements and also at a minimum of quality fluctuation. The other side of the coin though means a stronger dependency on very large production quantities. In consequence, many tobacco specialities have become "victims" of these conditions and have vanished from the market – they did not sell sufficiently to allow a profitable production. This is a really sad trend in smoking culture that mainly friends of natural tobacco blends have to experience and suffer from. One of our aims is to close these gaps in the market. The name "manufactory" indicates the high amount of traditional handcrafting in the course of our tobacco production.
Our tobacco manufacture also depends, of course, on an efficient and competitive technical equipment particularly as the demand for DTM blends has grown noticeably over the past years mainly in the international trade. Since quite some time we have therefore been looking for machinery that would match our demands in terms of size and output capacity. In most cases we had to be content with second-hand machines that afforded a great amount of restoration. Some two years ago, we started our reconstruction work with the help of Mr. Manfred Jacob, a retired Hauni engineer specialized in tobacco processing machinery, and in March 2011 we were finally able to celebrate the completion our new production line.
Mr. Andreas Mund is now in charge of the development and production of DTM blends after our former master blender Mr. Jürgen Westphal has retired from his job. In cooperation with Mr. Heiko Behrens, often also with the help of Mr. Michael Apitz of DAN PIPE, he creates our new interesting pipe tobacco mixtures.
Despite our relatively low turnover of appr. 60.000 kg per year we have to buy our leaf tobacco on the same terms as the big companies, that is by the container. So, the lots of leaf tobacco have to be stored for quite a while before they are completely processed. But this only does the tobacco good as, if stored under optimal conditions, it can slowly mature and improve its rich aromatic characteristics day by day. And even though it is hard on our bank account, we are proud and really pleased with our bulging leaf tobacco stock.
Of course, handcrafted tobacco specialities strictly processed with traditional production techniques have their price which, thanks to their excellent quality, is well appreciated and accepted by our customers. So we stick to choosing only best grades of leaf tobacco and using most refined precious aroma additives, and we take utmost care on the tobacco's way from storage to cutting, pressing, blending and final packaging. This is our way to show our love of tobacco.
We normally process quantities of 50 up to 400 kg per blend. The tobaccos are spread out to be loosened up and at the same time moistened to appr. 25% humidity by spraying on a carefully composed "casing" of seasoning agents like plum pulp, liquorices juice and other natural aromatic spices. After this procedure the blend is left to rest for a day to allow the flavors to thoroughly join together. The blend is then cut and again spread out to evaporate excess moist. Aromatic mixtures are sprayed with alcohol based fragrances, mainly to improve the tobacco's scent in the air, and left to rest some more hours before being weighed out, packed and labeled, which is, of course, again all done by hand.
"Should you ever stay in our region, do not hesitate to give us a call and visit our factory. We don't mind curious looks but will gladly provide information on all sectors of leaf tobacco processing. And besides – the picturesque little town of Lauenburg by the River Elbe with its historical buildings along the river bank is also worth a stay".
Yours sincerely, Heiko Behrens
Production
Leaf tobacco is loosened by hand and, on a conveyor belt carried into the moistening device to make it soft and to enhance its flexibility before being cut.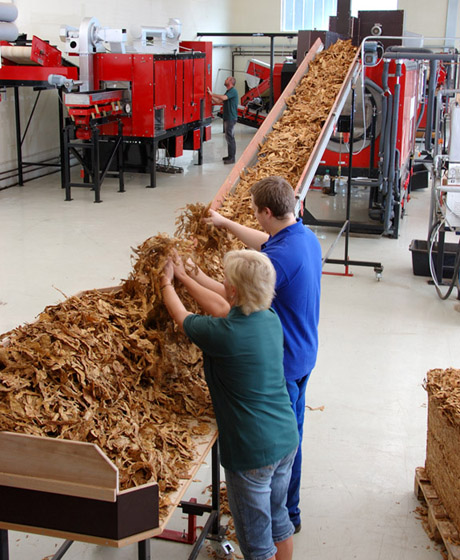 Another conveyor belt carries the moistened leaf tobacco into the cutting machine.
Conveyor belts carry the cut tobacco into a heating chamber where the moisture added before cutting is reduced to an optimum degree for the following production steps such as blending and flavoring.
A view of the historical heatable presses, installed in one of the main building's vaults. Here mainly Virginia leaf is matured under high pressure to create classical Flake tobaccos, a part of them also made up as "Ready Rubbed" Virginia to be used in quite a number of DTM's various pipe tobacco blends.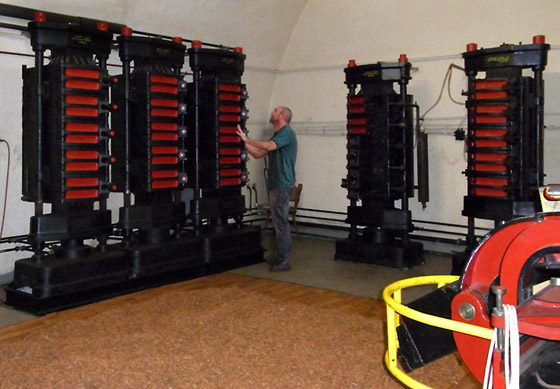 Some of the various pipe tobacco specialities from the DTM production.